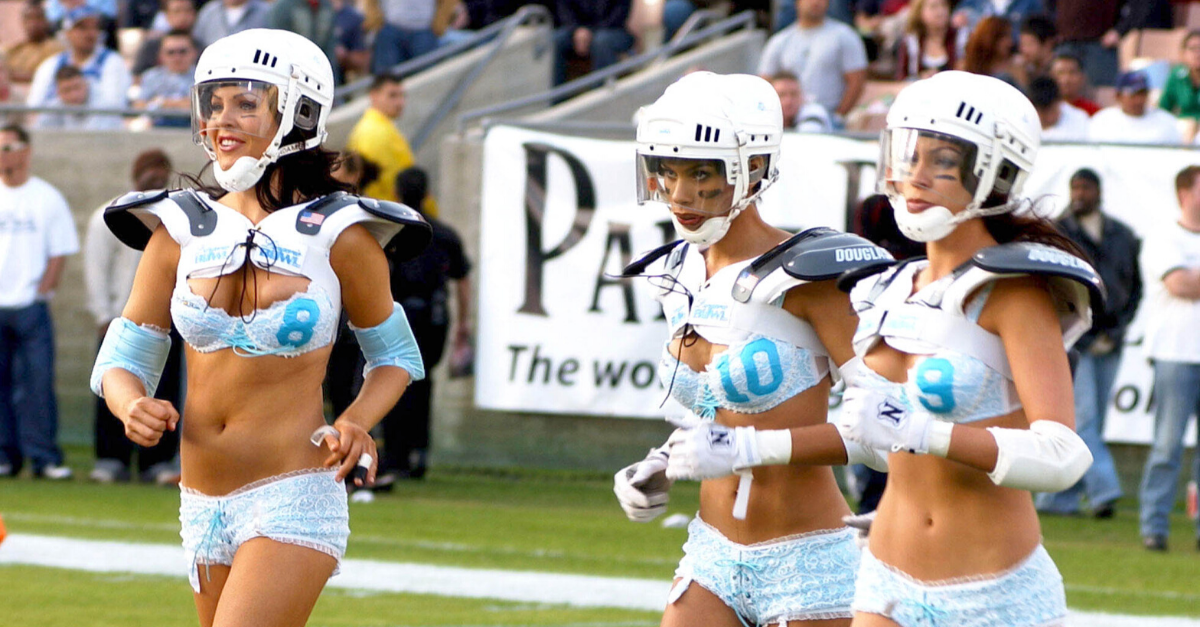 Star Max via AP Images
Gimmicks drive upstart sports leagues. But football leagues like the XFL, for all its innovations, hasn't firmly grasped the national spotlight in its first season. That's because when the standard of American football is measured off century-old institutions like college football and the NFL, it's an uphill battle to convince fans your league is worth watching.
But fill rosters with women wearing revealing uniforms and put them on an indoor football field, and you've got a recipe for a league entering its second decade of operation in 2020.
Founded in 2009 and branded as the Lingerie Football League, the LFL sought to bring new flavor to the game. What started as the Lingerie Bowl — three annual games were played during the Super Bowl halftime show during the mid-2000s — grew into its own entity thanks to chairman Mitch Mortaza. After a full decade, expansion attempts with LFL Canada, LFL Australia, and franchises all across the United States, and more than a few naysayers, the Legends Football League — "Lingerie" was dropped from the name in 2013 — announced it was closing its doors in 2019.
Then, a few days later, the website was relaunched, announcing yet another rebrand: The Extreme Football League (X League) kicks off in 2020.
LFL Rebrands as The X League
"In the age of female empowerment in sports, the Extreme Football League (or 'X League') is set to kickoff April 2020. The X League will make history prior to even playing a single game, as the league is announcing it will provide its athletes with ownership equity as they build their tenure in the sport.

"Alongside shattering glass ceilings in women's sport by making its athletes future equity owners, the X League will also be established as the highest echelon of women's tackle football.

"'This is not your father's football league', the X League will compromise of some of the world's most athletic women, battling on a 70-yard field, in 7-on-7 full-contact tackle football. If you miss old school black-and-blue football, played by passionate athletes, the X League, is your league."

— Excerpt from EXTFL.com press release
Eight teams are scheduled for the 2020 season — Seattle Thunder, Los Angeles Black Storm, Austin Sound, Denver Rush, Chicago Blitz, Atlanta Empire, Nashville Knights and Omaha Red Devils — with planned expansions into 24 US markets. (A timetable for that massive expansion is unclear.) Most of those markets existed in the last iteration of the Legends Football League in 2019, but the Atlanta Steam, Chicago Bliss, Omaha Heart, Austin Acoustic, Los Angeles Temptation and Seattle Mist were all renamed — Only the Knights remain.
The days of garters and lace dangling from players' shoulder pads are gone, but the league's "athletic wear" standards that compare to beach volleyball uniforms are the indoor football league's biggest calling card.
After all, seeing female athletes, many of whom played collegiate sports at the Division I level, tackle each other is easier to sell when they aren't wearing as many clothes.
Lingerie Football League Highlights
RELATED: Security Tackles Instagram Model Trying to Rush Super Bowl Field
As gimmicky as the league is, it's been criticized six ways to Sunday by everyone from casual fans to the players themselves.
Melissa Marguiles was an MVP running back for the Los Angeles Temptations and key cog to the team winning three-straight Lingerie Bowl titles from 2009-2011. Described as "the threat in the LFL," she told VICE in a 2015 interview about how the league — in particular, Mortaza — had players benched because they didn't "meet the standard of attractiveness." "Bigger girls" were told to lose weight, furthering that physical appearance, not football ability, is what the LFL leaned on.
Marguiles also told the story of how, after sustaining a concussion while making a tackle, she was benched, but not due to her injury. She says Mortaza was upset she didn't celebrate and make a show of the play.
How Much Money to LFL Players Make?
During that interview with VICE, Marguiles explained how the league's football players were paid based on ticket sales and whether they won or lost. It ended up being only a few hundred dollars every season, but the injuries they were sustaining took a huge toll. (Don't forget that they're playing full-speed tackle football in bikinis and hockey helmets.)
In the newly-announced X League, players can receive ownership stakes in their team at the conclusion of their careers, but only to those who "establish tenure and proven their worth to the league." A Superstars Program is being established to help athletes create branding and revenue opportunities for themselves, which seems to be their main, if not only, source of income for playing.
The X League's opening game will be April 11 when Seattle visits Austin. The 2020 season plays on until conference championship games on August 29 in Los Angeles, followed by The X Cup title game on September 12.
Regardless of your thoughts on the league, previous broadcasting and television deals with MTV2, YouTube, and Fuse mean that people continue to watch, and women hoping for a chance to score touchdowns in organized football keep coming back year after year.
This article was originally published March 5, 2020.
---
UPDATE: Due to the coronavirus pandemic and spread of COVID-19, the X-League's scheduled start date is tentatively set for June 20 when Seattle travels to Atlanta.