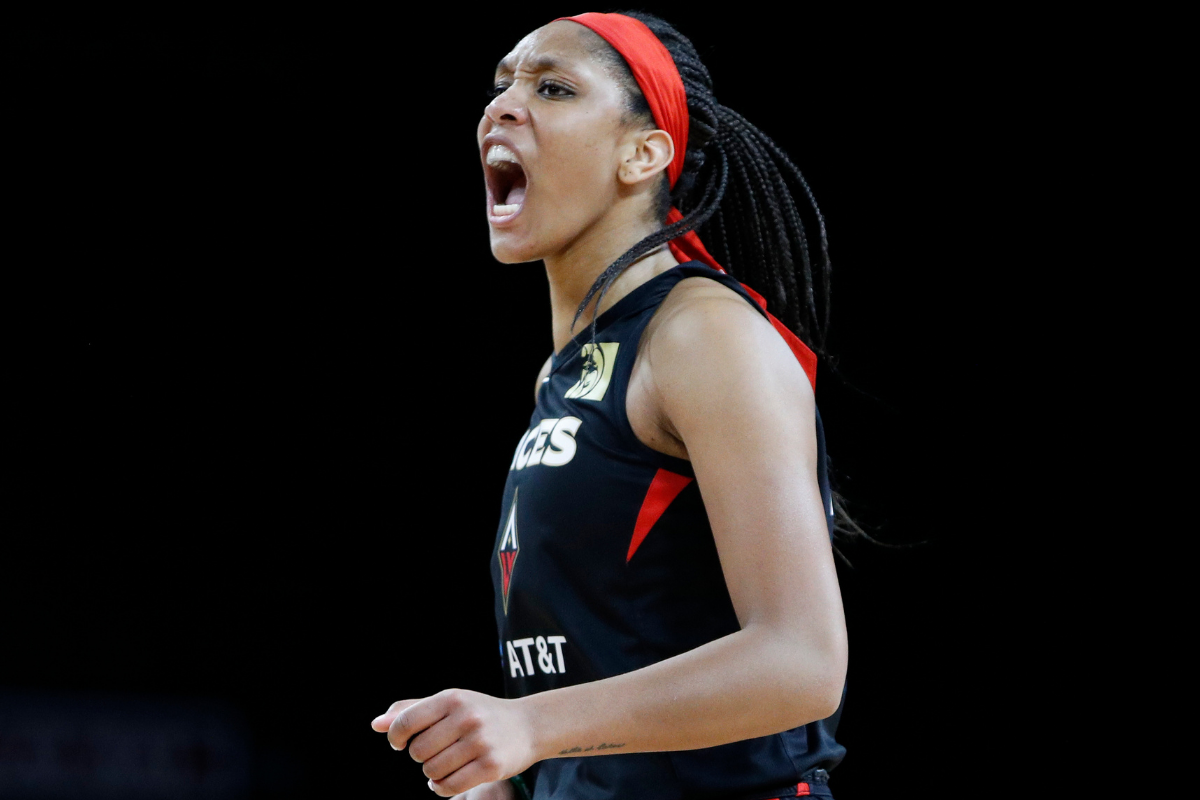 AP Photo/John Locher
A'ja Wilson will hear this chant wherever she goes. It's well-deserved. The Las Vegas Aces superstar earned the 2020 WNBA Most Valuable Player Award in what looks like the first of many.
Wilson's talents are on the court are undeniable. She embraces a leadership role with a strong voice that carries off it. She's an outspoken advocate for social justice and equal pay for women's basketball players.
High School Career
A'ja Ridyadh Wilson was born on August 8, 1996 in Hopkins, South Carolina. She was a standout at Heathwood Hall Episcopal School, where she averaged 24.7 points, 13.9 rebounds, and 4.3 blocks.
Wilson led the Highlanders to a state-runner up finish as a junior and a state championship as a senior. She was named the National High School player of the year, a Parade All-American, and a McDonald's All-American in 2014.
As the No.1 recruit in the country, Wilson committed to the play for the University of South Carolina Gamecocks.
South Carolina
RELATED: Candace Parker Balances Life as Basketball Star & Full-Time Single Mom
Wilson immediately made an impact for coach Dawn Staley. In her four years, she racked up several accomplishments:
— NCAA Champion (2017)

— NCAA Tournament Most Outstanding Player (2017)

— Consensus National Player of the Year (2018)

— 3x Consensus First-Team All-American

— 3x SEC Player of the Year

— 4x First-Team All-SEC

— Honda Sports Award (2018)

— SEC Freshman of the Year (2015)

— SEC All-Freshman Team (2015)
The superstar power forward left USC as the all-time leading scorer in school history.
WNBA Career
Wilson was the first-overall pick in the 2018 WNBA Draft by the Las Vegas Aces. She carried her success and winning mentality to the pros. Her professional accomplishments are bound to grow:
— WNBA MVP (2020)

— 2x WNBA All-Star

— WNBA Rookie of the Year (2018)

— WNBA All-Defensive Second Team (2020)

— WNBA blocks leader (2020)
Like many WNBA players, Wilson spends the league's offseason hooping professionally overseas. She played last season with the Shaanxi Red Wolves of the Chinese Basketball Association.
The 2018 No. 1 pick led Vegas to a league-best 18-4 regular season record in the coronavirus-shortened season. Wilson and the Aces were in the midst of the 2020 WNBA Finals against the Seattle Storm. at the time of this publication.
Salary
The 2020 MVP is in the second year of her 4-year, $232,178 rookie contract, with the final year being a team option worth $67,020. She'll earn an average salary of $58,045 per Spotrac.
Wilson spoke out on social media about the pay gap between NBA salaries and WNBA salaries following LeBron James' deal with the Los Angeles Lakers in 2018. Her statement was met with support from Aces teammate Kayla McBride, Phoenix Mercury guard Skylar Diggins-Smith, Staley, and Hall of Famer Alex English.
She highlighted the discrepancies in revenue sharing. At the time, WNBA players received less than 25 percent of league revenue compared to NBA players receiving 51 percent.
This all changed thanks to the WNBA's new Collective Bargaining Agreement established in January 2020. The new CBA could be splitting revenue down the middle by 2021, although the ramifications of COVID-19 will affect future projections.
Based on the new terms, Wilson will have a lucrative payday once her rookie deal expires.