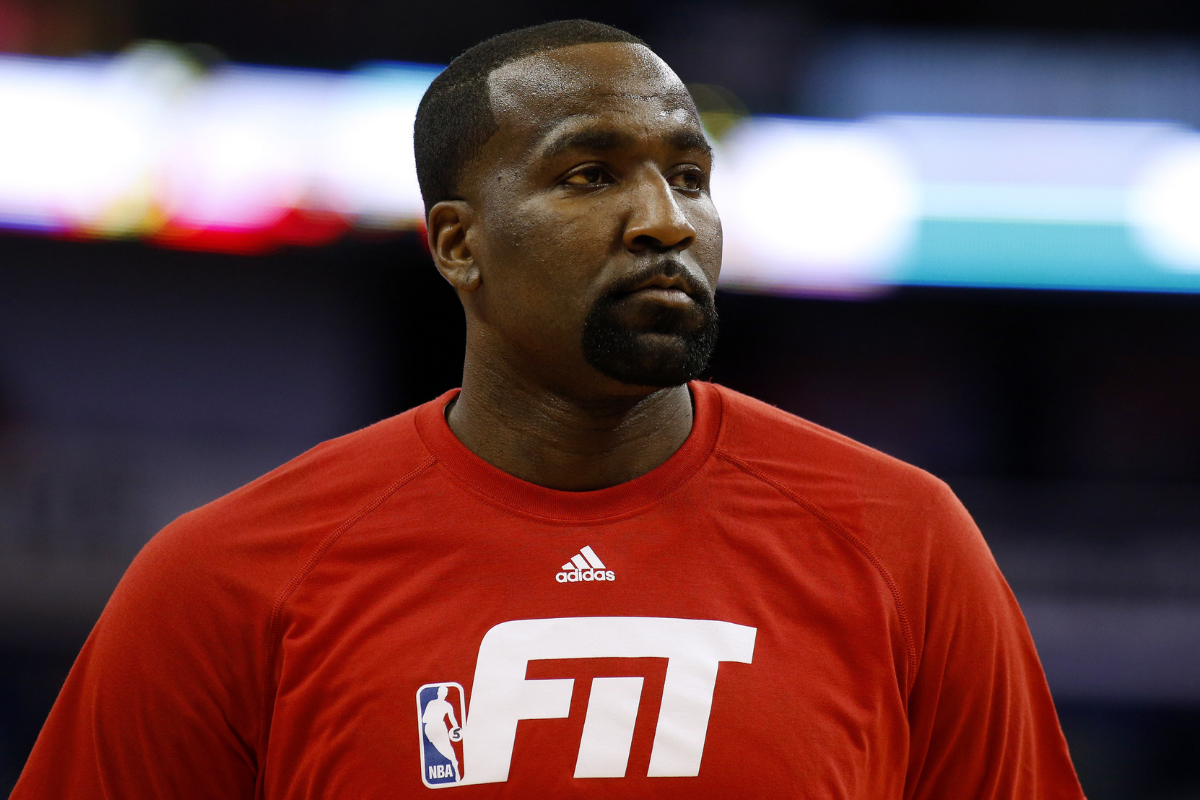 AP Photo/Jonathan Bachman
Kendrick Perkins is the ultimate enforcer. If you mess with his superstar, you'll catch a mean mug and a shimmy. If you need a box out, he's your man. If you need a veteran leader, give him a call. Perk made as much an impact on the court as he did in the locker room.
Transforming into this intimidating figure came with time. He paid his dues around the league as a young buck straight from high school to earn the reputation.
And a nice paycheck.
Early Life & High School
RELATED: Greg Oden Didn?t Play Long, But He Walked Away With a Fortune
Kendrick Perkins was born in Nederland, Texas on November 10, 1984. He grew into a star on the Clifton J. Ozen High School basketball team in nearby Beaumont.
As a junior, Perk's squad lost to Chris Bosh's Dallas-based Lincoln High School in the Texas 4A state championship. In his senior year, he averaged 27.5 points, 16.4 rebounds, and 7.8 (!) blocks, leading OHS to a 33-1 record. The only loss came in the state championship game. His team won four consecutive district championships in his prep career.
Perkins, a consensus five-star recruit, was a top-10 player in the class of 2003. He racked up some major high school honors, including sharing the court with LeBron James at the McDonald's All-American game:
? First-team Parade All-American (2003)

? Second-Team Parade All-American (2002)

? McDonald's All-American (2003)

? Texas Mr. Basketball (2003)
The five-star initially committed to play for John Calipari at Memphis, but instead opted to enter the 2003 NBA Draft.
NBA Career and Earnings
The American professional basketball player was the 27th pick in the first round by the Memphis Grizzlies. He was immediately traded to the Boston Celtics on draft night.
Perk's playing time under head coach Doc Rivers expanded with experience. The highlight of his career came during the 2007-08 season, when he was a starter alongside Boston's Big 3 of Paul Pierce, Kevin Garnett, and Ray Allen. He started every regular season and playoff game on the way to a victory in the 2008 NBA Finals over the Los Angeles Lakers.
After eight years in Boston, the NBA player was traded to the Oklahoma City Thunder. Perk teamed up with Kevin Durant and Russell Westbrook for five years before getting sent to the Cleveland Cavaliers in February 2015. He played the 2015-16 season with the New Orleans Pelicans before returning for a final stint with the Cavs.
The Beaumont, Texas native played 14 total seasons, averaging 5.4 points, 5.8 rebounds, 1 assist, and 1.2 blocks per game for four different NBA teams.
Per Spotrac, Perk earned $57,750,424 in career earnings.
Media Career
Perkins entered the media world as an NBA analyst for ESPN post retirement. He appears on the network's flagship programs The Jump, Get Up, First Take, and SportsCenter.
Kendrick Perkins Net Worth
According to Celebrity Net Worth, Kendrick Perkins' net worth is $18 million. The big man hasn't shied away from ruffling some feathers as a media member. Just ask his former teammates.
Perk doesn't care if the conversation is about the Eastern Conference or Western Conference. If the topic involves the Golden State Warriors, Utah Jazz, Houston Rockets, Miami Heat, Brooklyn Nets, Denver Nuggets, Philadelphia 76ers, or Los Angeles Clippers, he's not afraid to mix it up.
It's no different from his long career, where he left with an NBA championship and a full bank account.