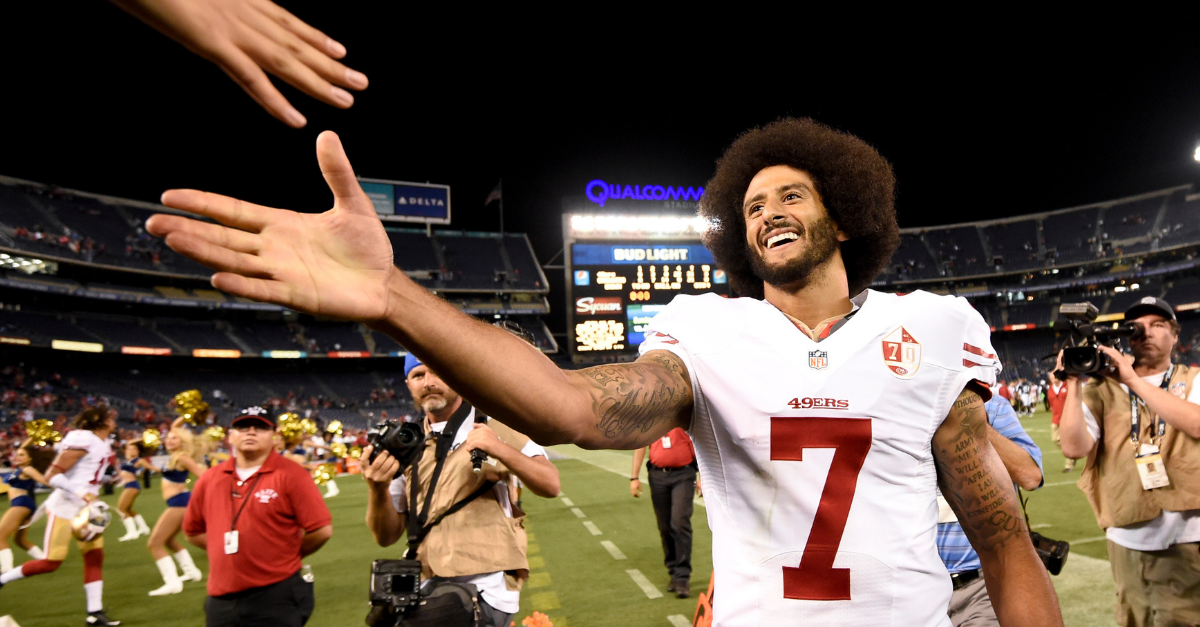 AP Photo/Denis Poroy
AP Photo/Denis Poroy
The NFL regular season is over, and the playoffs are heating up as we inch closer to Super Bowl LIII on February 3 in Atlanta, Georgia. Two teams will face off for the alluring Lombardi Trophy at Mercedes-Benz Stadium, and one thing is for certain: In order to get there, you need a stud quarterback, and many players believe one of the most capable is collecting dust at home.
In an anonymous poll conducted by The Athletic, 85 defensive players currently in the NFL were asked if they believed much-maligned former San Francisco 49ers quarterback Colin Kaepernick should be on an NFL roster. Well, 81 of them (95%) answered with a resounding yes.
Since 1999, the last 20 Super Bowl winning teams were led by these quarterbacks: John Elway, Kurt Warner, Trent Dilfer, Tom Brady (5), Brad Johnson, Ben Roethlisberger (2), Peyton Manning (2), Eli Manning (2), Drew Brees, Aaron Rodgers, Joe Flacco, Russell Wilson and Nick Foles.
If you want to win in the NFL, you have to have elite-level quarterback play, even if it's only for a short stretch in the playoffs, if you want to hoist a title. While many people look at the final year of Colin Kaepernick's most recent stint in the NFL, the 31-year-old icon played at a championship level during his time in the league.
Whether you want to accept it or not, the free agent is a better quarterback than several current NFL players on active rosters.
RELATED: President Trump Condemns Kaepernick's Nike Deal
In that recent poll, 20 percent of the voters would replace Jacksonville Jaguars quarterback Blake Bortles with Kaepernick. Meanwhile, 18 percent also said Nathan Peterman, arguably the worst quarterback to ever play in the NFL, isn't as good as Kap.
The former Nevada Wolfpack dual-threat athlete hasn't played an NFL game since 2016. The now-infamous national anthem protests of racial injustice and police brutality largely died after the 2017 season, but Kaepernick's influence continued with the controversial Nike campaign, as well as his ongoing collusion grievance against the NFL owners, who he says conspired to keep him out of a job.
In his six professional seasons, Kaepernick threw for more than 12,000 yards, rushed for 1,060 more, and threw more than twice as many touchdowns (72) as he did interceptions (30). He did, however, fumble the football a whopping 40 times in a five-year stretch.
Different teams, like the Indianapolis Colts, Washington Redskins and Seattle Seahawks were all linked to potentially signing him over the last two seasons, but nothing ever materialized further than rumors.
The clock is ticking on Kaepernick ever having a realistic second chance in the NFL. As he gets older, the allure of his dual-threat presence is shrinking and his margin of error dwindles. The longer he's out of football, the worse it's going to get. If an NFL team takes a chance on Kaep, like 95 percent of the players polled believe they should, you'd have to expect that chance to come some time in the 2019 NFL season.
If not, we might have really seen the last of Colin Kaepernick on an NFL field.