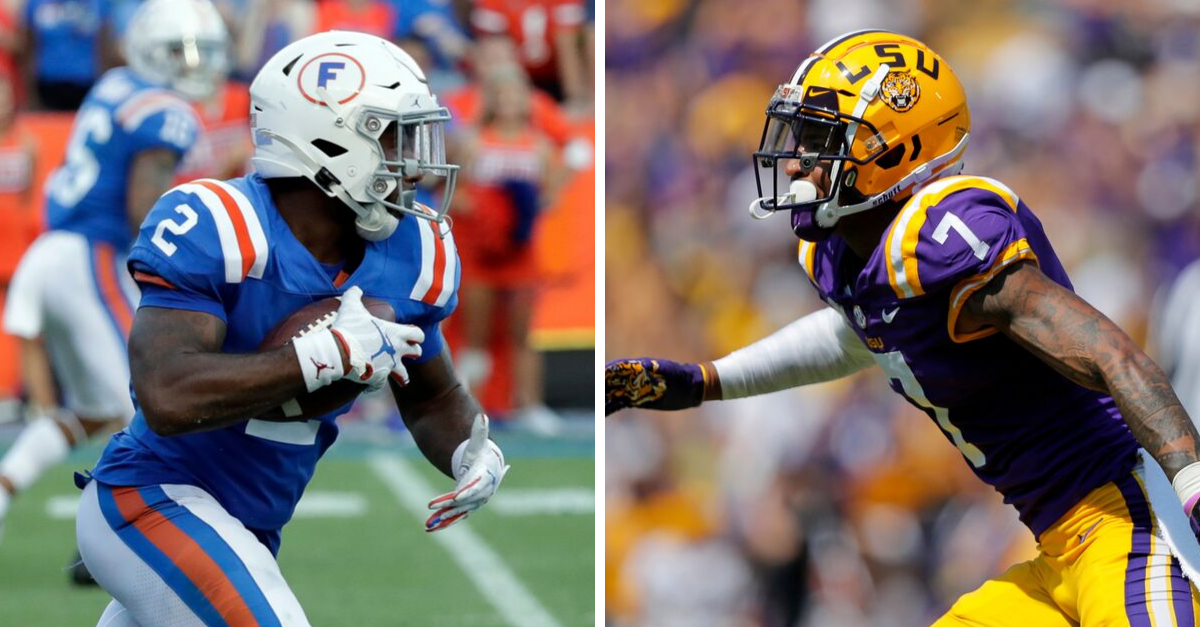 AP Photo/John Raoux (left), Gerald Herbert (right)
ESPN's College GameDay is meant to showcase the big picture of college football. The kickoff show travels across the country from Pullman, Washington all the way to James Madison University in Harrisonburg, Virginia. The idea is that every area in America is showcased, and as many cultures around the country as possible are highlighted.
Well, it's safe to say that 2019 has been "The Year of the SEC." For the sixth time in eight weeks, College GameDay's marquee matchup features at least one team from the Southeastern Conference.
ESPN is pushing the SEC down all of our throats for a reason; it is college football's best conference. Four SEC teams are among the top seven in the most recent AP Poll, including the top-ranked Alabama Crimson Tide who travel to face the No. 24 Texas A&M Aggies this weekend. (Also another potential SEC-exclusive College GameDay location.)
But on October 12, television's premier pregame show heads to Baton Rouge, Louisiana where the No. 7 Florida Gators will face the No. 5 LSU Tigers.
Where is College GameDay This Week?
This is the third appearance of 2019 for Florida after hosting the Auburn Tigers in Gainesville just last weekend. It's the second time for LSU, including its huge win over Texas back in early September down in Austin.
Look, there are some really big games to choose from this weekend. No. 10 Penn State travels to face No. 17 Iowa in a primetime Big Ten game on ABC. Sixth-ranked Oklahoma and 11th-ranked Texas head for the Cotton Bowl in a massive installment of the Red River Rivalry. Baylor is ranked for the first time since 2016, and their showdown against Texas Tech could leave them as the last unbeaten team in the Big 12.
So why pick Dan Mullen vs. Ed Orgeron? Simply put, this game will shape the College Football Playoff.
A lot of people believe that two or even three SEC teams could earn a spot in the postseason tournament. Those three are likely Alabama, Georgia and LSU. But now, Florida has a legitimate argument to get there if they finish with one loss to, say, the Bulldogs on a neutral field.
Few teams go on the road to night games in Death Valley and win. If the Gators pull this off? The CFP picture gets really, really, really crowded.
Who is College GameDay's Guest Picker?
During last year's Alabama-LSU matchup at Tiger Stadium, Houston Astros infielder Alex Bregman, a former LSU baseball star, was the celebrity guest picker. For some reason, New Orleans native Lil Wayne joined Rece Davis, Desmond Howard, Kirk Herbstreit and Coach Lee Corso back in 2016 for (you guessed it…) Alabama versus LSU. Duck Dynasty's Willie and Jase Robertson picked in 2014, and LSU alumna Lolo Jones picked way back in 2012.
In 2019, is it finally time for "The Big Aristotle" Shaquille O'Neal to join the desk?

Can Joe Burrow continue his scorching-hot start? Will UF quarterback Kyle Trask be able to play despite a sprained left knee? Which of these top-20 defenses will take control of this top-10 matchup?
Hate on the SEC all you want. It's clear and obvious that this is the premier conference in college football.