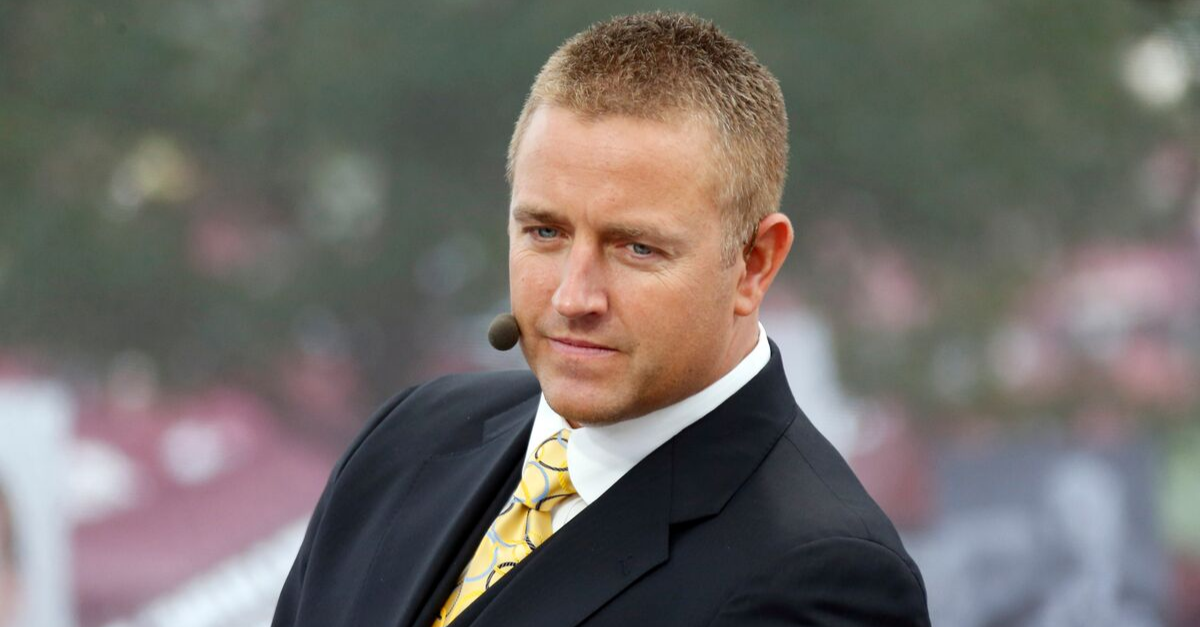 AP Photo/Rogelio V. Solis
Kyle Field is a fortress. One of college football's oldest and largest stadiums, the Home of the 12th Man is one of the country's most recognized home field advantages. Students organize The Midnight Yell so that every game day cheer is perfect, and more than 100,000 Texas A&M Aggies help create one of the greatest atmospheres you'll find.
But is Kyle Field actually intimidating? Is it really a place where teams worry about playing? Sadly for everyone in College Station, not everybody outside A&M is convinced that it is.
A conversation between long-time broadcaster Chris Fowler and ESPN's College GameDay crew members Kirk Herbstreit and Chris Fallica ? known as "The Bear" ? went viral over the weekend. Called the "Nightcap Recap," the three college football minds chatted about Ohio State-Michigan State, if Manny Diaz can bring Miami back into national contention, and the triple-overtime thriller between SMU and Tulsa on Saturday night.
But when the conversation shifted to the upcoming AP Top 25 matchup between the No. 1 Alabama Crimson Tide and No. 24 Texas A&M, Herbstreit stopped the conversation and launched into a tangent about if Aggieland is actually a tough place to play.
You can listen to the start of this conversation at 3:03 of the Instagram Live video below.
Kirk Herbstreit on Kyle Field
Herbstreit: Real quick, how about Kyle Field? Like, what's A&M's record at home nowadays?

Fallica: Zero and two hundred ninety-s ? they never, they don't…

Herbstreit: What was the last big game A&M won at home?

Fowler: Well they beat Alabama in Alabama that time with Johnny Manziel.

Fallica: They won the LSU overtime game last year.

Herbstreit: Well yeah yeah yeah, but I?m talking about, we brag about Kyle Field like 12th Man?

Fallica: No. Never. Never. Like, no.

Herbstreit: Like… R.C. Slocum?

Fallica: Before that, probably Jackie.

Herbstreit: Why do we build it up though?

Fowler: It?s a great environment.

Herbstreit: No, no, no. I'm not doubting that it's not a great environment. I'm saying is it an intimidating environment?

Fallica: No. You would think it is, the stadium is, but they don't seem to win big games…
RELATED: 100 Years Ago, A&M Didn't Give Up a Single Point. All Season.
Texas A&M's Record at Kyle Field
Now before everyone in College Station starts ranting and raving about how loud Kyle Field is, how hundreds of thousands of fans pack inside, and how the Fightin' Texas Aggie Band is the best in land, I dug up one statistic that will haunt A&M's dreams.
When Texas A&M hosted a ranked team at Kyle Field between 2000 and 2018, the Aggies went 12-26. Oof.
A&M's last big win over a top-10 team at home came in the seven overtime classic over LSU in 2018. Before that, you can go back to 2016 when Kevin Sumlin and company beat No. 9 Tennessee. It doesn't get prettier before that.
Herbstreit's point wasn't about College Station being a bad place to watch a football game, and he even makes it a point to say as much. What he is saying, and what history actually tells us, is that Kyle Field isn't exactly a place where elite teams come to die; it's not a place that scares great teams and makes them average.
It might be a great environment, but it's going to take all of Aggieland showing up in force, plus Jimbo Fisher's squad knocking off some really good teams at home for that narrative to change.