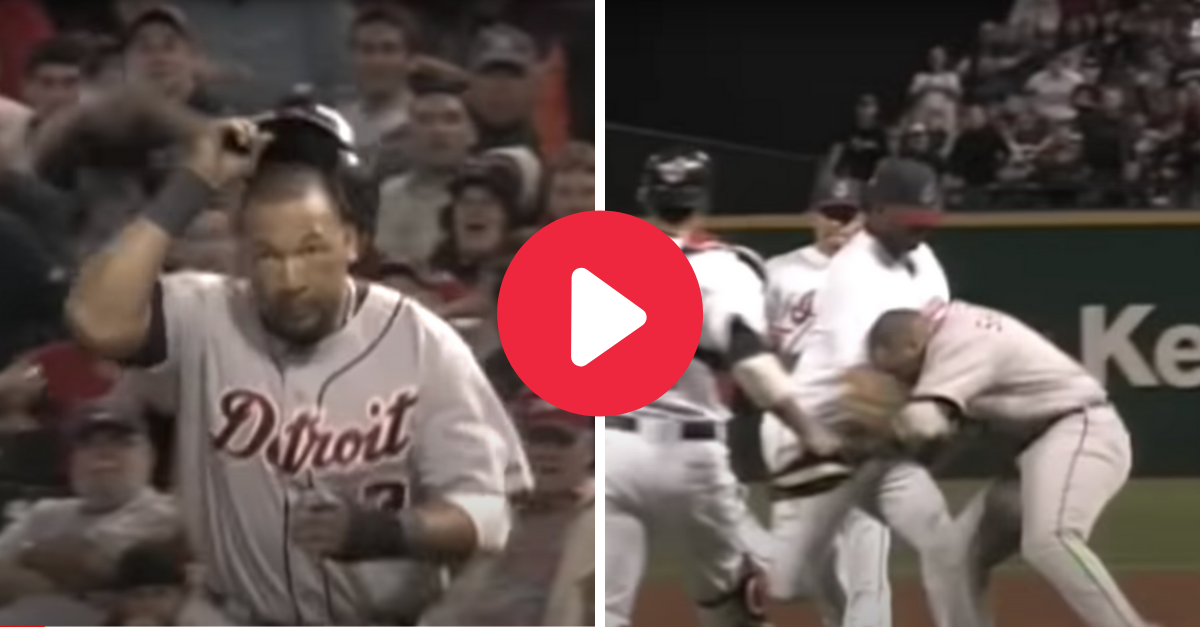 Screenshot from YouTube: MLB
Fights take place everywhere on the baseball diamond. The normal procedure looks like when Nyjer Morgan memorably charged Chris Volstad on the mound in 2010. They take place at home plate, second base and even in the bleachers.
The storyline is usually that of the pitcher throwing at a batter's head, like what led to the infamous Nolan Ryan-Robin Ventura beatdown. Dirty slides and collisions at bases aren't uncommon either. But rarely do you ever hear of a brawl stemming from a pick-off attempt.
Gary Sheffield was fed the f*** up in 2008, and he took action.
The Gary Sheffield-Fausto Carmona Fight
Gary Sheffield was renown for his wild stance and batting swing. He'd wave his bat back and forth like a lightsaber as the pitch approached home. He was a feared slugger, hitting 509 home runs across his 22-year MLB career with the Milwaukee Brewers, San Diego Padres, Florida Marlins, Los Angeles Dodgers, Atlanta Braves, New York Yankees, Detroit Tigers and New York Mets.
By the time he was a 39-year-old outfielder/designated hitter for the Tigers in 2008, Sheffield was not considered a speedy guy. He stole just nine bases that year. There was really no need to ever pick off when he was on first.
Cleveland Indians pitcher Fausto Carmona had other ideas. He beaned Sheffield when the Indians and Tigers were playing each other on September 19, 2008, prompting terrifying stare-down and a free pass to first base.
Then, Carmona immediately threw over to first base.
Sheffield took issue with it, and it was freakin' go time:
RELATED: MLB Player Punches Pitcher, Gets Laid Out By First Baseman
The two exchanged blows. Sheffield got caught in a headlock. The benches cleared. It became one of baseball's most epic fights. Not even Miguel Cabrera could swoop in and defuse it.
Both Sheffield and Carmona were ejected, of course. Indians catcher Victor Martinez (who would later play for the Tigers) and Tigers second baseman Placido Polanco were also tossed.
Sheffield Explains Why He Charged Carmona
Sheffield explained to MLive.com that he was hit after Carmona surrendered a home run to Cabrera in the same inning.
"Any time you do that," Sheffield said, "we are going to have problems. And we can deal with it during the game, after the game, whatever…

"I got the one hand in I wanted, and I guarantee you he felt it."
I gotta say, I'm on Sheffield's side here. He was going to leave Carmona alone until he picked off and irked the Tigers slugger.
Sheffield wrapped up his Major League Baseball career the following year, finishing with nine All-Star Game selections, a World Series title, 509 home runs, 1,676 RBIs and a .292 batting average. The one-time shortstop and third baseman early in his career grew into a star and garnered Hall of Fame consideration for his numbers.
As for Carmona, he pitched for six years with the Indians before his real name and age were discovered. Roberto Hernandez then transitioned to a reliever in the Tampa Bay Rays bullpen and bounced around as a free agent. His final years in the bigs came in 2016.