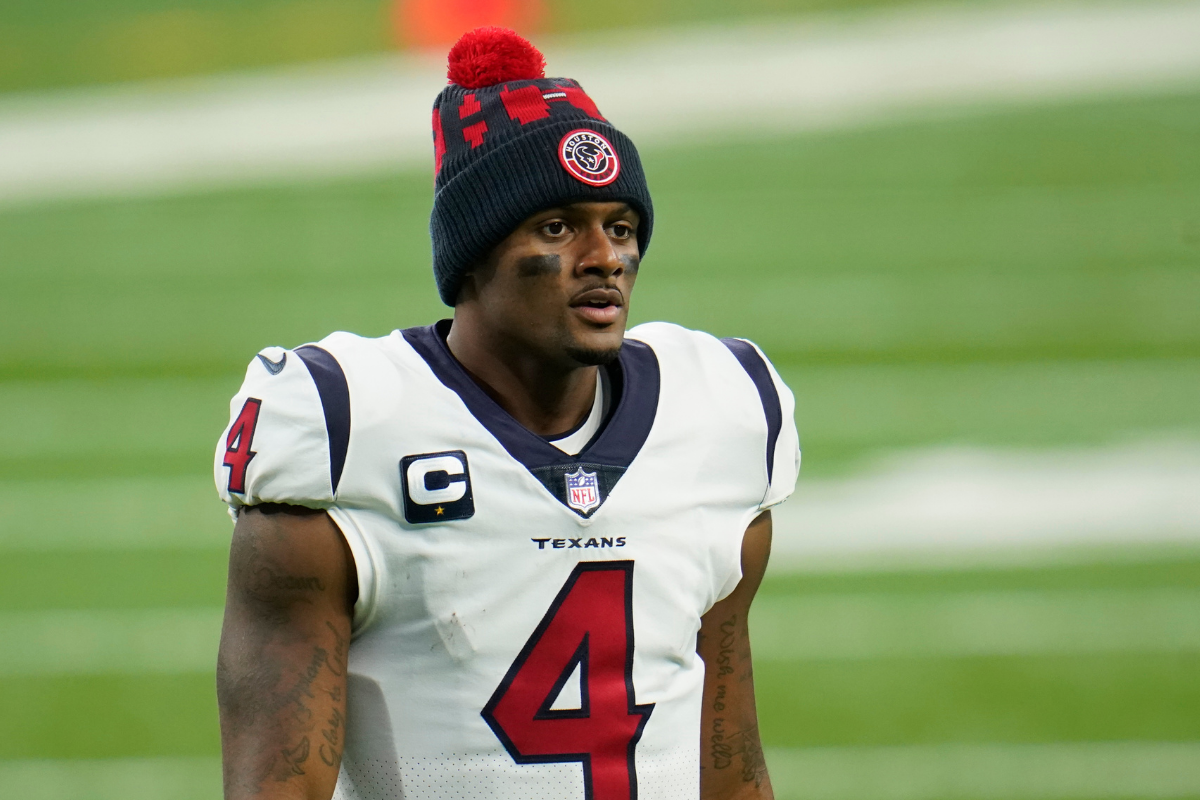 AP Photo/Paul Sancya
Houston Texans quarterback Deshaun Watson is undoubtedly one of the best quarterbacks in the NFL. He can make anything happen with his legs, plus he has a cannon for an arm.
In 2020, he threw for 33 touchdowns, a league-best 4,823 passing yards and posted the second-best quarterback rating behind Aaron Rodgers.
Despite the 25-year-old's instant success in the league, the three-time Pro Bowl player hasn't been a playoff staple like Kansas City Chiefs' Patrick Mahomes. His team went 4-12 and his organization continuously seems to screw up.
Deshaun Watson is reportedly unhappy for numerous reasons and he could ask for a trade this offseason. According to ESPN, he was upset that the team hired former New England Patriots executive Nick Caserio as the new general manager without talking to him.
Watson recommended that the Texans interview Chiefs offensive coordinator Eric Bieniemy after firing head coach and general manager Bill O'Brien this season. The Texans didn't, per Pro Football Talk's Mike Florio. He also wasn't given a warning that star wide receiver DeAndre Hopkins would be traded.
NFL teams should be lining and Caserio's phone should be buzzing if Watson ever formally requests a trade.
Many teams like the Seahawks and Packers already have their franchise quarterback and don't need Watson. Five teams, however, could desperately use him.
5 Deshaun Watson Trade Destinations
Jacksonville Jaguars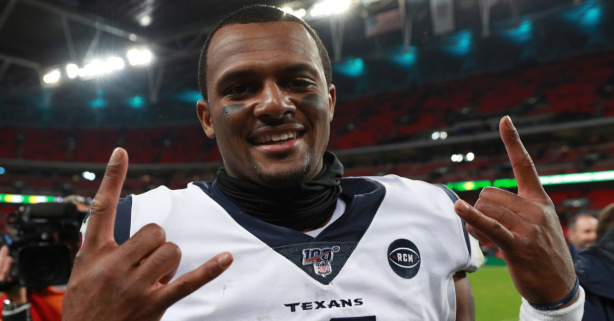 Listen, I know the Jaguars have the first-overall pick in the NFL Draft locked up. They can take Trevor Lawrence and hope to ride him to a Wild Card or Super Bowl one day.
But what if they traded for the other former Clemson quarterback? Watson is already a proven star. Lawrence, despite his NCAA brilliance, is still an unknown.
It'll take a lot to fetch Watson. At least two first-round picks and probably another top pick or solid young player. The Jags have four draft picks in the first two rounds of the 2021 NFL Draft, so they could definitely entice Houston's front office and chairman Cal McNair. Plus, they have the cap space.
A cheap Trevor Lawrence plus more picks is a good way to start rebuilding the Texans.
New York Jets
RELATED: Jimmy Garoppolo Dated a Porn Star, But Still Hasn?t Found Love
The Jets are a hot mess. They finished 2-14 in the AFC East. Sam Darnold is definitely not the guy.
They need a heck of a lot more than Deshaun Watson, but he's the type of impact player that can mask deficiencies. New York owns the No. 2 pick — one that could be used to select Ohio State's Justin Fields — and they own another first-round pick in this draft.
Watson signed a four-year, $160 million extension recently to stay in Houston. What are the chances he'd pack up for MetLife Stadium.
Washington Football Team
Dwayne Haskins was just released. Alex Smith is not a long-term option under center. Everyone loves WFT head coach Ron Rivera.
Washington could be a solid landing spot for Deshaun Watson, who would completely revitalize and help change the perception of the organization. It would take a haul for a team who made the playoffs with a negative record, but why wouldn't you try to get one of the best passers in football?
Carolina Panthers
Think about it. Deshaun Watson and Christian McCaffrey in the same backfield.
The Panthers could seriously become contenders in the NFC South alongside the New Orleans Saints' Drew Brees and Tampa Bay Buccaneers' Tom Brady (yeah, Matt Ryan and the Atlanta Falcons need work). All they need is to bring Watson home to the Carolinas.
Maybe the Panthers throw in Teddy Bridgewater as well as a couple first-rounders or second-rounders to get this done.
Chicago Bears
The Bears can't possibly trust Mitchell Trubisky at this point. How ironic would it be if the team that passed up on Watson and Mahomes wound up with one of them?
Chicago has the type of defense that should make a general manager go get a quarterback. They'd probably have to give up the house for Deshaun, and it doesn't help that they don't have a top pick in this year's draft. But man, Deshaun Watson would be fun in Chicago.
BONUS: New England Patriots
This is a message to every owner, general manager and head coach in the NFL: Do not let Bill Belichick get ahold of Deshaun Watson.
The Patriots went 7-9 and missed the playoffs with Cam Newton under center. If they want to beat the Miami Dolphins and Buffalo Bills, it might take putting together a package of picks and players for Watson.
Plenty of other teams could use a talented quarterback like Deshaun Watson. The Indianapolis Colts, Detroit Lions, Las Vegas Raiders, San Francisco 49ers, Philadelphia Eagles and Pittsburgh Steelers could all be suitors.
Then again, every team should be interested.