Everyone loves a big man. No one loves them as much as football coaches in the NFL, however. In a sport full of behemoth men who push each other round and throw their bodies at each other, it helps to pack some pounds under the uniform.
Fat guys not only serve a functional purpose along the offensive and defensive lines, they sometimes produce the most entertaining plays when they line up as wide receivers and tight ends. The 350-pound swan dive, the heaviest "fat guy touchdown" in playoff history and the electrifying 313-pound kick returner all defied the laws of physics. Just don't take a cleat to the face from someone like Albert Haynesworth.
The biggest players in NFL history not only approach 400 pounds but fly past it, proving that eating whatever the heck you want can sometimes pay off. I mean, what other sport can you find a 7-foot, 440-pound kid in HIGH SCHOOL?
From William "The Refrigerator" Perry to a man that tops our list at a whopping, whopper-eating 410 pounds, here's the list of the 11 heaviest NFL players to ever step foot on the gridiron. They truly are an inspiration to everyone. And just for fun, their combined weight is 4,186 pounds.
12. Robert Griffin, 361 Pounds
Did you know there were actually two Robert Griffins who played for Baylor at the same time? This one stood 6-foot-6, weighed 361 pounds and blocked for his Heisman-winning teammate with the same name.
The 2012 sixth-round pick played for the New York Jets and Colts before making his way to the Champions Indoor Football league, where he still plays.
11. Mekhi Becton, 364 Pounds
Becton turned heads at the 2020 NFL Combine when he ran the 40-yard dash in an unprecedented 5.10 seconds. That's faster than the 5.28 seconds Tampa Bay Buccaneers quarterback Tom Brady ran it in.
The former Louisville offensive tackle parlayed that incredible performance into the 11th overall pick in the 2020 NFL Draft from the New York Jets. He played his entire rookie NFL season last year. Becton was too heavy and too fast not to include on this list.
10. TJ Barnes, 364 Pounds
Scouts and coaches see Barnes' 6-foot-7, 364-pound frame and instantly salivate. You can't teach his size that made him one of the largest football players ever.
After going undrafted out of Georgia Tech in 2013, he's been signed by the Jacksonville Jaguars, New York Jets, Buffalo Bills, Kansas City Chiefs and Carolina Panthers. He was born in Enterprise, Alabama, and apparently ate everything in sight from the day he was born.
9. Caleb Jones, 370 Pounds
One of the more recent additions to the list, Caleb Jones has yet to see meaningful NFL action for the Green Bay Packers. However, the 2022 undrafted free agent out of Indiana has one thing going for him, and that's size at 6'9" and 370 pounds.
Jones also knows a thing or two about good eating. His dad owns a soul food restaurant in Indianapolis, which may or may not have played a factor in him becoming such a large human being heading into his pro career.
8. Michael Jasper, 375 Pounds
When Jasper played at Bethel University, he couldn't even practice in pads. The school couldn't find any that fit him.
The 6-foot-4 defensive tackle weighed in at 429 pounds in college but slimmed down to 375 before the Buffalo Bills selected him in the seventh round of the 2011 NFL Draft. He bounced around the pro football league with the Tennessee Titans, New York Giants and Carolina Panthers. He now serves as his alma mater's head coach. Just imagine if he'd have stayed at 429 pounds.
7. Trent Brown, 380 Pounds
Fun fact: I lived with Trent Brown for about two weeks when he played at the University of Florida. My first thought upon seeing him in our apartment was "holy crap, that's the biggest person I've ever laid eyes on."
At 6-foot-8 and 380 pounds, Brown was easily the biggest man to ever suit up for the Gators at right tackle. The San Francisco 49ers selected him in the seventh round of the 2015 NFL Draft and he's found great success with the New England Patriots and Las Vegas/Oakland Raiders.
The Raiders in 2019 inked him to a four-year, $66 million deal ($36.75 million guaranteed), making him the highest-paid offensive lineman in football at the time. He now blocks on the Patriots' offensive line again.
He's currently the heaviest active NFL player.
6. William "The Refrigerator" Perry, 382 Pounds
RELATED: What Happened to William "The Refrigerator" Perry?
William was famously dubbed "The Refrigerator" because, well, he looked like one of those appliances you store your food in. He may have eaten everything in it, too.
The portly nose tackle and defensive lineman's highest reported playing weight was 382 pounds with the Chicago Bears, the NFL team he gained fame and won Super Bowl XX with. Never forget that the Bears used him as a running back in that Super Bowl and he scored a touchdown, proving he boasted more athleticism than anyone else on this list.
Perry struggled with his weight throughout his career and wrapped up his memorable 10-year American football career with the Philadelphia Eagles. Unfortunately, the 59-year-old's health has declined since retiring from the game.
5. Daniel Faalele, 384 Pounds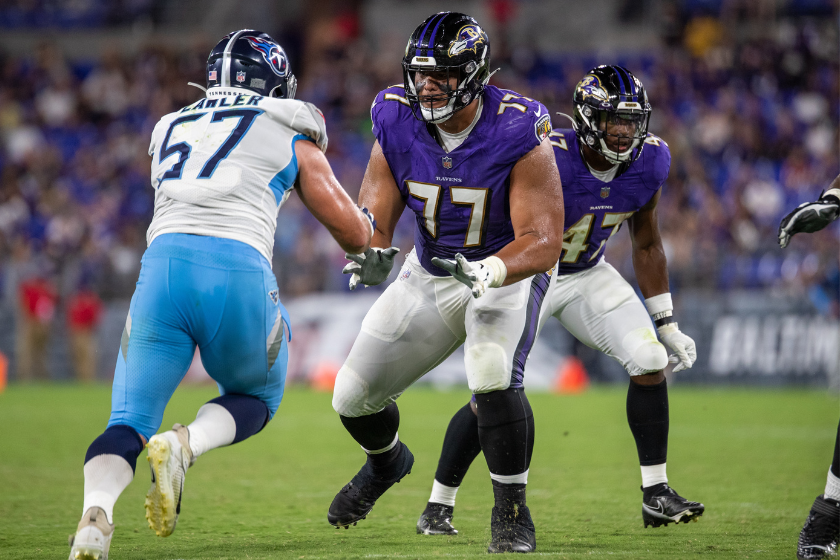 Daniel Faalele might not have caught your attention during his time in college, but the Baltimore Ravens' fouth-round pick in 2022 is certainly going to turn heads as the heaviest NFL player who is still active in the league. The rookie out of Minnesota appears likely to hold that title for quite some time, as he begins his NFL career protecting former MVP Lamar Jackson.
Needless to say, people are expecting big things from the big guy in Baltimore.
4. Bryant McKinnie, 386 Pounds
Reports of McKinnie weighing in at 400 pounds by the Baltimore Ravens were exaggerated, according to an interview with the Baltimore Sun in 2012. What isn't exaggerated is that he played at 386 pounds in 2011.
McKinnie was an absolute terrorizer at the University of Miami. He won a national championship in 2001 and became the most polished offensive tackle in college football. At 6-foot-8, he became one of the most intimidating dudes in the NFL with the Ravens, Minnesota Vikings and Miami Dolphins.
3. Nate Newton, 401 Pounds
Former Dallas Cowboys offensive lineman Nate Newton crossed the 400-pound plateau during his playing days in the 1980s and 1990s. He was so big that he earned the nickname "The Kitchen" because he was bigger than Perry at the time.
Like the men above him, the 6-foot-3 Newton was a darn good player. He won three Super Bowls and earned six Pro Bowl and two All-Pro selections throughout his 17-year career.
2. Terrell Brown, 403 Pounds
Brown was not only one of the heaviest but one of the tallest NFL players of all time. The 6-foot-10 behemoth offensive tackle was listed at 388 pounds but actually weighed in at 403 pounds when the St. Louis/Los Angeles Rams signed him out of Ole Miss in 2013.
"Actually, we weighed him in at 403," Rams coach Jeff Fisher said. "We had him in for the tryout, and he had some issues that we had to clear up from a physical standpoint. But he got that put behind us."
One glance at Brown's size is enough to drop anyone's jaw.
1. Aaron Gibson, 410 Pounds
We've finally reached the top of this very hefty mountain.
Gibson weighed in at 440 pounds in high school and holds the NFL's record for heaviest player at 410 pounds. After he became a 1998 Consensus All-American at Wisconsin, the Detroit Lions made the offensive tackle their first-round pick in the 1999 NFL Draft.
He played with the Lions, Dallas Cowboys, Chicago Bears, Buffalo Bills and in the Arena Football League, but his immense size never translated to success quite like some of the other scale-breaking players on this list.
In a Bleacher Report feature, the now 44-year-old Gibson said he ballooned to 480 pounds, lived on fast food and became reliant on painkillers. He even contemplated suicide. The good news is he turned his life and his diet around and now even has washboard abs.
Former 480-pound NFL OL Aaron Gibson almost took his life; now he?s taking steps toward living again #BRmag ?? https://t.co/QLMfxDer9I pic.twitter.com/QBo5aBXhHW

— Bleacher Report (@BleacherReport) July 27, 2017
This post was originally published on June 17, 2020.
Want More Sports News?
Get the biggest and best sports news sent directly to your inbox.