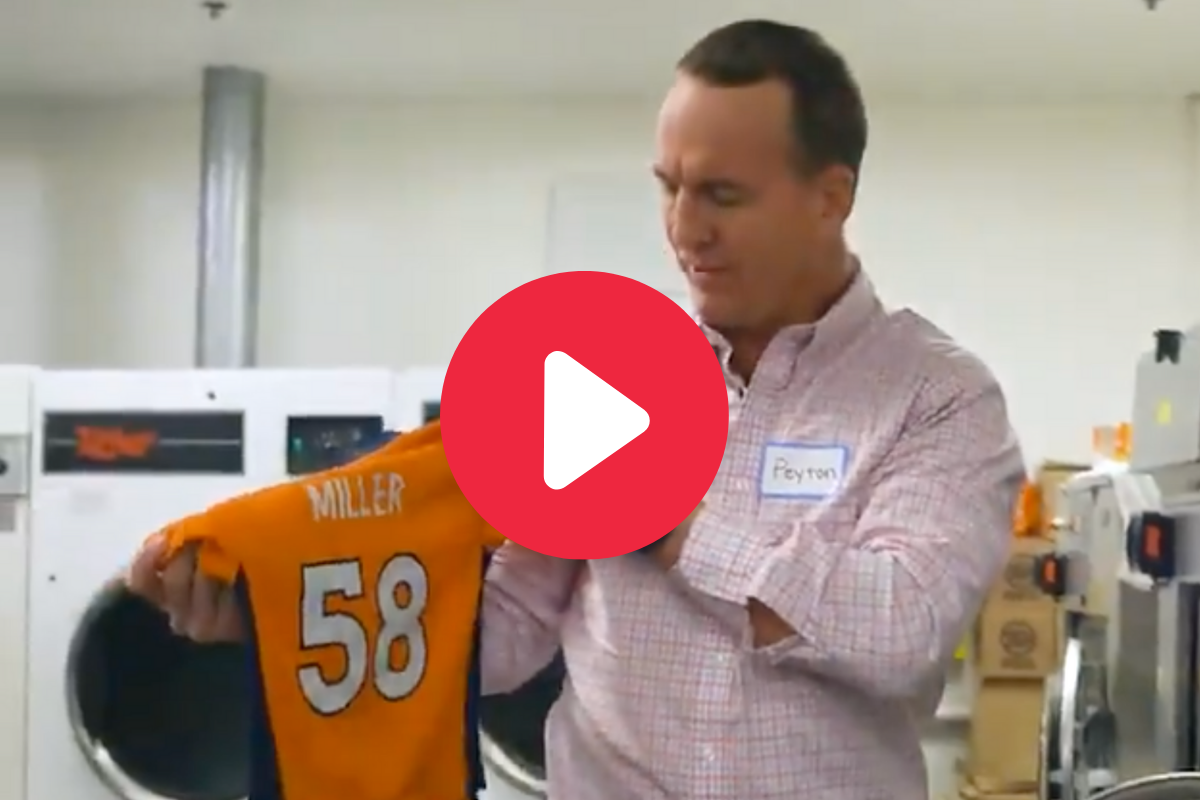 Screenshot from Twitter: Denver Broncos
Peyton Manning was made for the big screen, not the football field.
From The Sheriff's iconic "United Way" Saturday Night Live skit to his priceless commercials and even his hilarious horror spoof of "The Blind Side," the former NFL player has proved throughout his lifetime he knows how to make people laugh.
The former Indianapolis Colts and Denver Broncos quarterback has been busy being a dad since retiring, but he found time to return to Colorado to work as a "summer intern" in the Broncos' funny schedule release video.
Peyton Manning: The "Summer Intern"
RELATED: Peyton Manning?s ?Priceless? Mastercard Commercials Will Always Be Funny
NFL schedules were released on Wednesday, and some teams put their creative heads together to announce them.
The Dallas Cowboys, for example, brought in rapper Post Malone and told owner Jerry Jones to play beer pong with him. Seriously.
The Denver Broncos decided to enlist the Super Bowl 50 winner and five-time MVP to announce their schedule. But first, he had to perform routine office tasks as a "summer intern."
Peyton was a riot.
The Pro Football Hall of Fame member delivered mail to employees by rolling it up and throwing spirals. Hopefully, John Elway was on the receiving end for one of them.
He mowed lawns and polished trophies. He was even given laundry duties and shrunk the living hell out of Von Miller's jersey.
"What the f***?" he said as he pulled it out of the dryer.
The best part, in my opinion, was when Peyton answered the phone. On the line was his brother, Eli Manning, playing a cruel prank on his poor intern sibling.
"Seymour Butts? Naw, I don't think we have a…wait a minute. I know this voice. Eli? Eli, I told you I'm working. Don't bother me," Peyton said.
Eventually, the non-stop-laughter-inducing video ended when once Peyton printed out the official 2021 Denver Broncos schedule.
Bravo, Peyton.
I'd like to see Buccaneers' Tom Brady or Packers' Aaron Rodgers do something like this. I guess we'll have to settle for "Jeopardy" and "Family Guy."
Denver Broncos Schedule 2021
PRESEASON
Week 1: at Minnesota Vikings
Week 2: at Seattle Seahawks
Week 3: vs. Los Angeles Rams
REGULAR SEASON
Week 1: at New York Giants
Week 2: at Jacksonville Jaguars
Week 3: vs. New York Jets
Week 4: vs. Baltimore Ravens
Week 5: at Pittsburgh Steelers
Week 6: vs. Las Vegas Raiders
Week 7: at Cleveland Browns
Week 8: vs. Washington Football Team
Week 9: at Dallas Cowboys
Week 10: vs. Philadelphia Eagles
Week 11: BYE WEEK
Week 12: vs. Los Angeles Chargers
Week 13: at Kansas City Chiefs
Week 14: vs. Detroit Lions
Week 15: vs. Cincinnati Bengals
Week 16: at Las Vegas Raiders
Week 17: at Los Angeles Chargers
Week 18: vs. Kansas City Chiefs