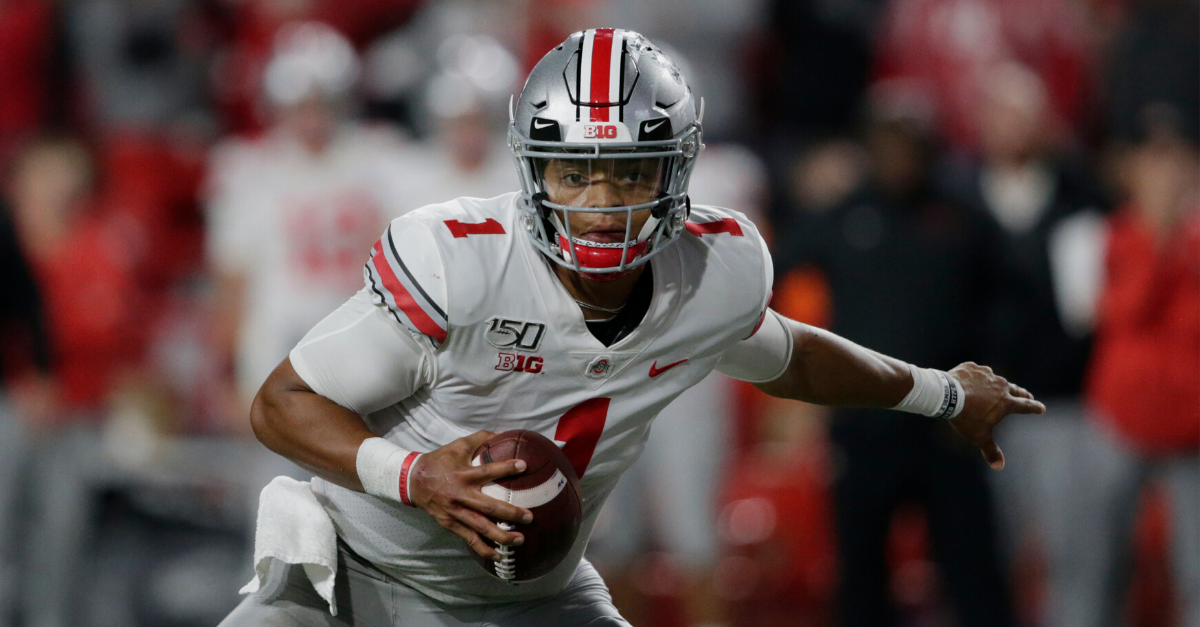 AP Photo/Nati Harnik
UPDATE (August 5, 2020): Due to the coronavirus pandemic and COVID-19 outbreak ruining our fun, the Big Ten Conference announced it will play a 10-game, conference-only regular season schedule for the 2020 season.
What follows is Ohio State football's new schedule leading up to the Big Ten Championship Game on December 5. All games times will be determined at a later date.
Revised Ohio State Football Schedule 2020
Sept. 3 (Thursday): at Illinois Fighting Illini (Champaign, Ill.)

Sept. 12: RUTGERS SCARLET KNIGHTS (Columbus, Ohio)

Sept. 19: at Purdue Boilermakers (West Lafayette, Ind.)

Sept. 26: INDIANA HOOSIERS (Columbus, Ohio)

Oct. 3: BYE

Oct. 10: NEBRASKA CORNHUSKERS (Columbus, Ohio)

Oct. 17: at Michigan State Spartans (East Lansing, Mich.)

Oct. 24: MICHIGAN WOLVERINES (Columbus, Ohio)

Oct. 31: at Maryland Terrapins (College Park, Md.)

Nov. 7: at Penn State Nittany Lions (State College, Pa.)

Nov. 14: BYE

Nov. 21: IOWA HAWKEYES (Columbus, Ohio)

Dec. 5: Big Ten Football Championship
---
The following article was originally published May 27, 2020 before schedule changes took effect.
The Ohio State Buckeyes have done just fine without Urban Meyer. Since the former head coach retired after the 2018 season and Ryan Day took over, OSU nearly made its way back to the College Football Playoff National Championship after winning it in 2014.
The Buckeyes boasted a bevy of a talent in 2019 that they lost to the 2020 NFL Draft, including first-round picks Chase Young, Jeff Okudah, Damon Arnette and second-rounder J.K. Dobbins. Still, there's one reason Ohio State should win a fourth straight Big Ten Championship: quarterback Justin Fields.
Fields finished third in Heisman Trophy voting a year ago. He was named the 2019 Big Ten Offensive Player of the Year throwing 41 touchdowns against just three interceptions. Plus, he rushed for another 10 touchdowns. Looking toward the 2020 season, his only competition to win the prestigious award given to the NCAA's best player is Clemson's Trevor Lawrence.
Fields led the Buckeyes to a 13-1 mark last season. Their explosive offense scored at will, putting up 45 against Florida Atlantic, 52 points against Northwestern, 42 against Cincinnati, 48 against Nebraska, 56 against Michigan, 73 against Maryland, 76 against Miami (Ohio) and 34 against Wisconsin before falling just short against the Clemson Tigers in the Fiesta Bowl.
Expect OSU to be out for blood in 2020.
After a season opener against the Bowling Green Falcons, the fireworks begin in OSU's second game on Sept. 12. That's when Day's squad travels to Eugene, Oregon, to take on the Oregon Ducks at Autzen Stadium.
By the end of October, the world will know how good this Ohio State team is. The month features a grueling slate that includes the Iowa Hawkeyes at home, Michigan State Spartans on the road, Penn State Nittany Lions on the road at Beaver Stadium, and Nebraska Cornhuskers at home. Fields should make quick work of the Indiana Hoosiers and Maryland Terrapins in November, as well as the Illinois Fighting Illini in Memorial Stadium.
Then, the game everyone has circles on their calendars: the Michigan Wolverines. Will this finally be the year Jim Harbaugh finds a way to beat his nemesis? Michigan hasn't taken this decisive rivalry game since 2011, and I wouldn't expect it in 2020.
According to ESPN's Football Power Index, Ohio State is favored to win every one of its games. The Buckeyes have at least a 90 percent chance at winning all but two of their matchups — Oregon (62.4 percent) and Penn State (61.8 percent).
Ohio State could meet Wisconsin or Minnesota in the Big Ten Championship game and once again earn the No. 1 seed in the CFP. Whether fans will be cheering from their couches or the seats in Ohio Stadium because of the COVID-19 pandemic remains to be seen, but Ohio State's football season gives it a great shot at winning its first national title since 2014.
Ohio State's Original 2020 Schedule
Sept. 5: BOWLING GREEN FALCONS

Sept. 12: at Oregon Ducks (Eugene, Oregon)

Sept. 19: BUFFALO BULLS

Sept. 26: RUTGERS SCARLET KNIGHTS*

Oct. 10: IOWA HAWKEYES*

Oct. 17: at Michigan State Spartans* (East Lansing, Michigan)

Oct. 24: at Penn State Nittany Lions* (State College, Pennsylvania)

Oct. 31: NEBRASKA CORNHUSKERS*

Nov. 7: INDIANA HOOSIERS*

Nov. 14: at Maryland Terrapins* (College Park, Maryland)

Nov. 21: at Illinois Fighting Illini* (Champaign, Illinois)

Nov. 28: MICHIGAN WOLVERINES*

* — Denotes Big Ten game
ALL CAPS — Denotes home game at Ohio Stadium in Columbus, OH