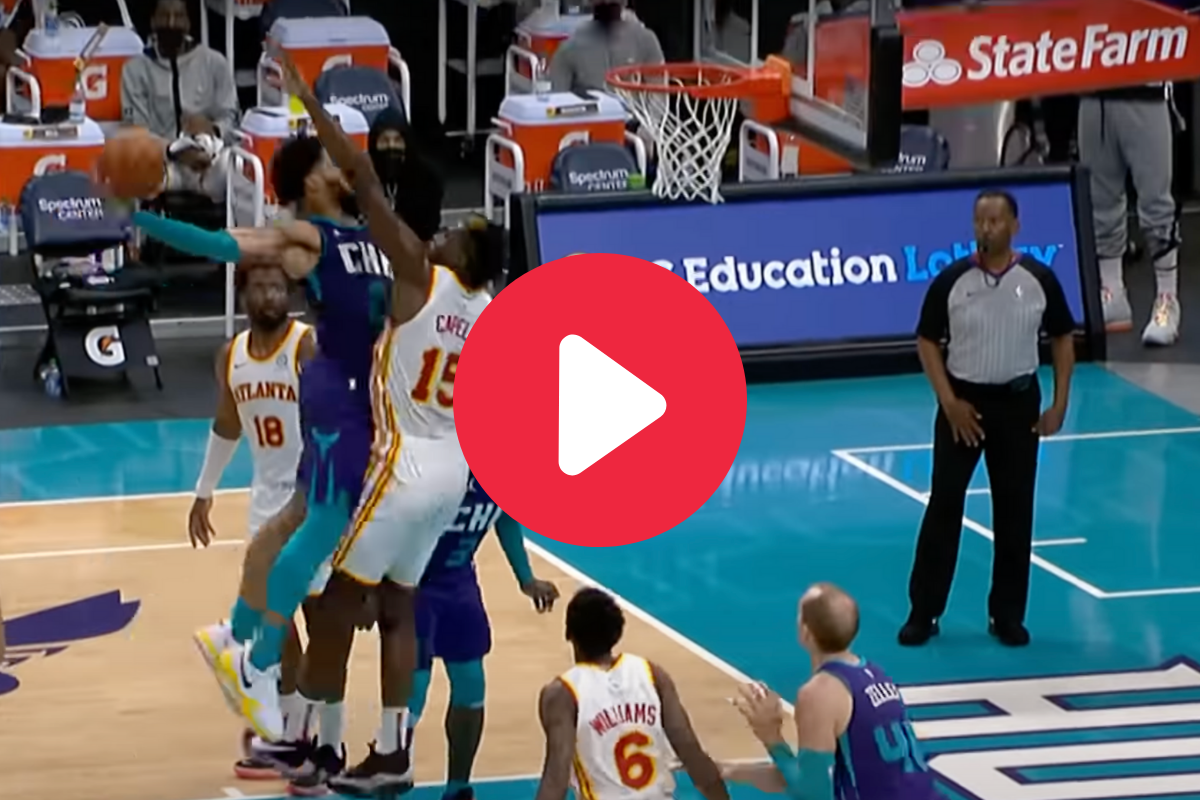 Screenshot from YouTube
Miles Bridges is the poster child for poster dunks.
The Charlotte Hornets high-flying forward is well known for making new wall art whenever he steps on the floor. He's a basketball player, he's a rapper, and now he's a soul snatcher.
On a Sunday afternoon dominated by Hideki Matsuyama's win at The Masters, Bridges caught the ball near the 3-point line, hit the ground running and left Atlanta Hawks center Clint Capela for dead.
Miles Bridges' Dunk Over Clint Capela
RELATED: Baron Davis? Thunderous Dunk Claimed Andrei Kirilenko?s Soul
It was late in the fourth quarter of a tight game between divisional foes. Hornets guard Terry Rozier back cuts and misses a left-handed scoop. Cody Zeller grabs the offensive rebound and kicks it out to Bridges near the top of the key.
He dusts Bogdan Bogdanovic and sniffs out his prey. Capela rotates to help, unknowingly securing his own demise.
Clint Capela cause of death: boomed on by Miles Bridges in the 52nd game of the 2020-21 season. Thoughts and prayers to his family.
Bridges cocked the ball back fully extended and brought down the house. His teammate Devonta Graham put his hands over his head in disbelief. LaMelo Ball stood up in excitement on the sideline. The Hornets announcers, who are always subdued in their reactions, gave a polite golf clap. The trending play was all over ESPN and social media.
The Michigan State product is now on the list of NBA players to avoid in open space along with LeBron James of the Los Angeles Lakers and Zion Williamson of the New Orleans Pelicans.
Although the Hawks prevailed 105-101, it was Bridges' highlight that stole the night. It's a candidate for Dunk of the Year with Minnesota Timberwolves rookie Anthony Edwards' slam over Toronto Raptors forward Yuta Watanabe.
The Hornets sit in playoff contention in the middle of the pack of the Eastern Conference. Atop the standings are the Philadelphia 76ers and Kevin Durant, Kyrie Irving, and James Harden's Brooklyn Nets.
Bridges' reputation spreads beyond the East from the New York Knicks, Detroit Pistons and Chicago Bulls to the Los Angeles Clippers, Portland Trail Blazers, Dallas Mavericks, Golden State Warriors, and Houston Rockets.
When Bridges is rising up, it's best to make a business decision.