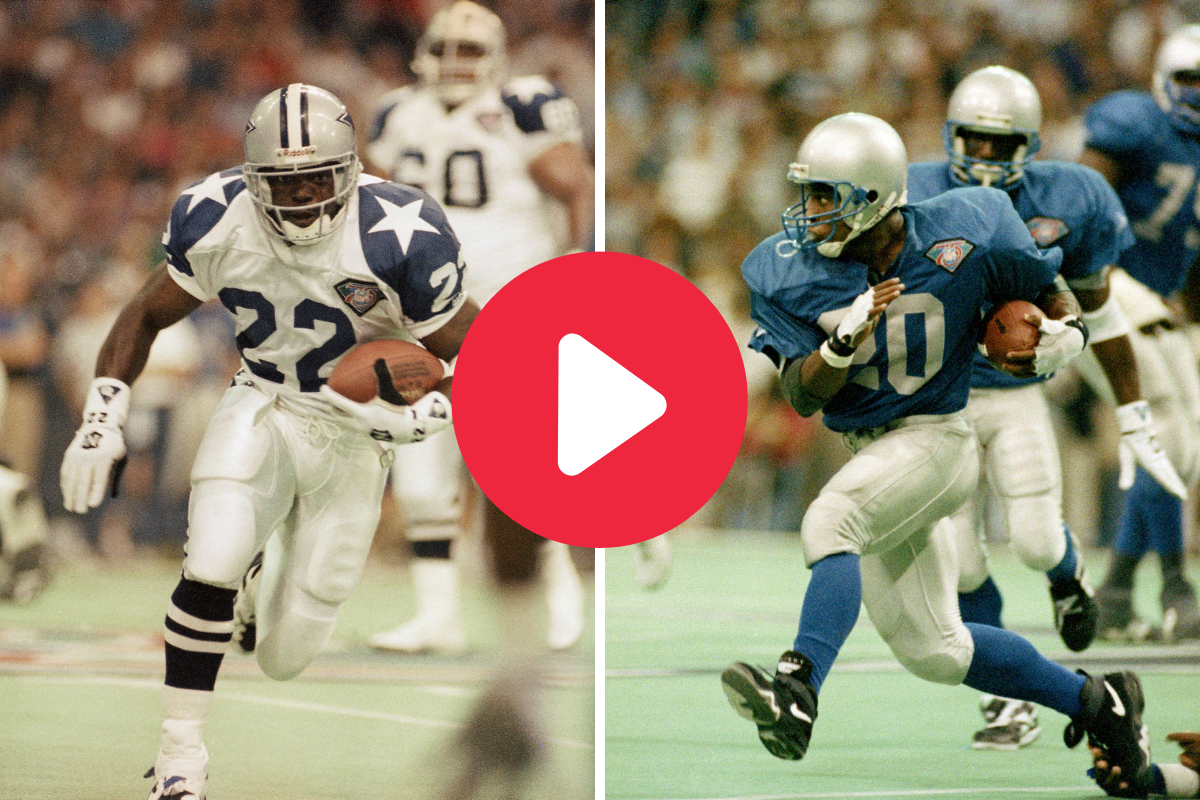 AP Photo/Linda Kaye (left), AP Photo (right)
It's not often sports fans get to witness two all-time greats go head-to-head in their prime. When they do, the results can leave us speechless, on the edge of our seats and arguing over which player is superior.
Boxers Muhammad Ali and Joe Frazier met for what was dubbed the "Fight of the Century" in 1974. Tennis superstars Roger Federer and Rafael Nadal have met countless times over the years but produced one of the greatest matches of all time in the 2008 Wimbledon final. MLB fans have been treated to a handful of Clayton Kershaw–Mike Trout duels over the past decade.
You can debate all you want about today's No. 1 quarterback, but Tampa Bay Buccaneers' Tom Brady cemented his status when he outplayed Green Bay's Aaron Rodgers at Lambeau Field in the 2021 NFC Championship game.
Nearly 27 years before that, though, football fans savored two performances for the ages when NFL all-time leading rusher Emmitt Smith squared off against Barry Sanders on Monday Night Football on Sept. 19, 1994.
Barry Sanders vs. Emmitt Smith
The 1990s Dallas Cowboys need very little introduction. They won the 1992 and 1993 Super Bowls behind Pro-Bowlers like Smith, quarterback Troy Aikman and wide receiver Michael Irvin. They won another in '95. Owner Jerry Jones and head coach Jimmy Johnson had something special brewing in Arlington, but a falling out between the two led to longtime Oklahoma coach Barry Switzer taking over in 1994.
Sanders' Detroit Lions, on the other hand, made the playoffs six times in the decade but never had enough firepower to see a Super Bowl. Head coach Wayne Fontes couldn't get over the hump with his good-but-not-great teams.
Still, these were considered the two best running backs since Walter Payton. Each had different styles. Smith was known for using his offensive line, running between his offensive linemen and pounding opposing tacklers. The shifty and slippery Sanders could make something out of nothing when his o-line failed him.
RELATED: Emmitt Smith's Net Worth: How NFL's Rushing King Racked Up Millions
Smith, a Florida Gator great, had won three straight rushing titles prior to this matchup. Sanders, out of Oklahoma State, paced the league in 1990 and three more times in the '90s. Smith was in his age-25 season. Sanders was in his age-26 season.
Sure, there were other great backs in the league at the time. Marshall Faulk, Jerome Bettis, Terrell Davis and Curtis Martin were all really good — they're all enshrined in the Pro Football Hall of Fame. But Sanders and Smith were a notch above them.
This was as prime time as it got.
Monday Night Football: September 19, 1994
The Cowboys jumped out to a 7-0 lead in the first quarter. Smith put together a couple decent runs and hauled in an 11-yard catch before Aikman connected with Alvin Harper for a 17-yard score.
Sanders responded with gains of nine and 12 yards on the Lions drive, setting up a Jason Hanson field goal. The two continued to gash the opposing defense through the second quarter. The Lions netted another seven points on Scott Mitchell's 25-yard touchdown to Brett Perriman.
By halftime, Sanders was up to 92 rushing yards. Between rushes and receptions, Smith was approaching 100 total yards as well.
On one third quarter drive, Smith carried the ball 11 times for 77 yards, but the Cowboys offense had to settle for a Chris Boniol field goal following a goal-line stand on the Lions half. Dallas finally tied the score at 17-17 in the fourth quarter on a 6-yard score from Smith.
With a chance for Detroit to win the game on a last-second field goal, the Cowboys blocked Hanson's attempt to force an overtime and quench our thirst for more explosive rushing plays. The Lions went on to win on a Hanson field goal following a Broderick Thomas strip sack of Aikman.
The final tally for those two Hall-of-Fame backs?
Emmitt Smith: 36 touches, 192 total yards, 1 touchdown

Barry Sanders: 40 rushes, 194 yards
Sanders' 40 carries set a Detroit Lions record and was five off the NFL record. The Detroit victory also gave Sanders a 3-1 edge all-time against Smith.
Smith, of course, went on to break Walter Payton's all-time rushing record by amassing 18,355 rushing yards. Many believe Sanders would've easily surpassed that yardage had he not retired after the 1998 season when he was just 30 years old. Despite calling his NFL career quits when he did, Sanders still ranks third all-time with 15,269 yards over his 10-year career.
Who Was Better: Barry or Emmitt?
Both won MVPs and were first-ballot Hall of Famers. Between the two of them, they made 18 Pro Bowls and earned 10 All-Pro honors. Even after they hung up the cleats, the debate over which back was better has raged on. Smith has publicly said Sanders was superior, while Sanders has given Smith his due credit.
Regardless, they dominated the 1990s and will go down in NFL history next to some of the top 10 greatest running backs of all time like Jim Brown, Gale Sayers, Eric Dickerson, Jerome Bettis, Marshall Faulk and Frank Gore.
And on that 1994 Monday night showdown they produced an unforgettable game that fans only get to witness every once in a while.
This article was originally published June 25, 2019, but legendary matchups like this don't come around too often.