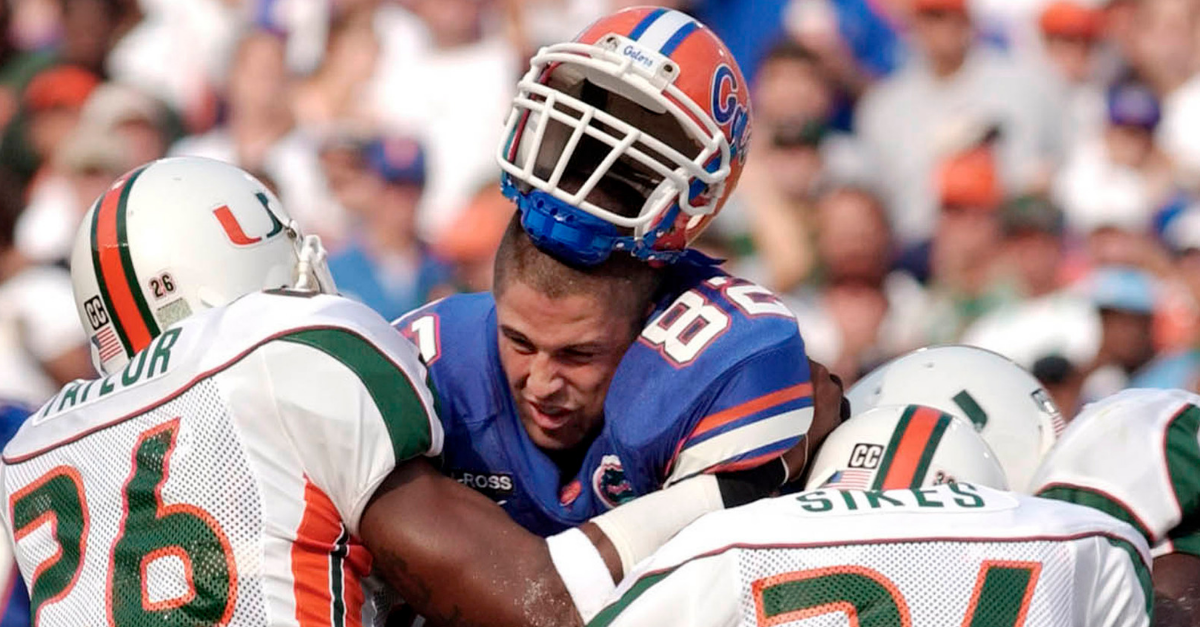 AP Photo/Phelan Ebenhack, File
The 2019 NCAA College Football season is full of great non-conference action and many of the games you should be circling involve teams from the Southeastern Conference.
Of the league's non-conference games, these are the 10 that will be the most entertaining and have the best opponents. I only picked one game for each school, because almost each school plays at least one pretty good game outside of their conference football schedule.
RELATED: 15 College Football Games You Have to Watch in 2019
Of the top 10 non-conference games that SEC teams will play, all but one is a Power 5 opponent. And that one team is Notre Dame, which is still a top team. There are always interesting non-conference games outside the Power 5 like when Samford almost beat Florida State last season, but those are hard to predict.
These games are also important for players individually in getting more experience against some good talent before the conference schedule. It is tough to do that against teams like Western Carolina, Tulane, UNLV, Wyoming and UAB.
Some teams could have had multiple games on this list like Florida and Georgia, but I wanted to get the top game from each team instead and rank the best from them. So these are the top-10 best SEC non-conference games for next season:
Honorable Mention:
Missouri vs. West Virginia; Sept. 7
Tennessee vs. BYU; Sept. 7
Arkansas vs. Colorado State; Sept. 14
Ole Miss vs. California; Sept. 21
10. Mississippi State vs. Kansas State
Game Day: September 14
Last year when these teams played in Manhattan, the Mississippi State Bulldogs won, 31-10. But with Nick Fitzgerald and the top few players of their defense gone, these teams are definitely a little more evenly matched.
The Kansas State Wildcats finished 5-7 last season, so it was no surprise they wren't on the same level as the Bulldogs, but it will also be much more difficult of an atmosphere since this game will be played in Starkville, making the game also much more entertaining to watch because you get the hear the cowbells ringing.
Mississippi State will also be led by former four-star dual-threat quarterback recruit Keytaon Thompson. This will be his first chance as the full-time starter after sitting behind Fitzgerald for the last two seasons, only playing in garbage time or due to injury.
9. Kentucky vs. Louisville
Game Day: November 30
They play every year, so this is no big deal, but it is still a great game since they are from the same state and have a great rivalry in football, not just basketball. Last season, the Kentucky Wildcats won this match-up, 56-10. The year before that, the Louisville Cardinals won, 44-17.
This year, the game is in Lexington and should be interesting going into the final game of the regular season, holding a lot of meaning for each team in their fight for bowl eligibility or which bowl they may be getting into. If Kentucky can build off their 2018 season, they may be fighting for a chance at the SEC East title.
8. Alabama vs. Duke
Game Day: August 31
Although the Alabama Crimson Tide never seem to have an extremely tough team on their non-conference schedule, they win almost every game they play. This season, they open up against the Duke Blue Devils, and I seriously feel for whoever is taking snaps for the first time and replacing Daniel Jones as their starting quarterback.
I don't think Duke is nearly as good a team as 'Bama should be scheduling, but hey, it is at least an opponent from the Power 5. The last time these teams played was in 2010 and the Tide rolled, winning 62-13. Of their four games played in the series, the Blue Devils have only won once — the 1945 Sugar Bowl.
7. Vanderbilt at Purdue
Game Day: September 7
My entire life, when I think of the Vanderbilt Commodores, I also think of the Purdue Boilermakers. And I know it is only because their colors are black with gold and their logo involves the first letter of their school's name, and they both have a creepy man for a mascot. So it really makes sense they play each other.
They have played one another five times with the Boilermakers winning four. The last time they played was a home-and-home in the 2002 and 2003 seasons. The road team won each game. Vanderbilt does travel to West Lafayette, Indiana for this game, so maybe that streak will continue for the Commodores.
I honestly really enjoyed watching Purdue in the Big Ten last season, especially when they beat the breaks of Ohio State, so that is why I have this here. And they also have one of the most talented players in all of college football with Rondale Moore, so he is worth the price of admission alone.
6. South Carolina vs. Clemson
Game Day: November 30
Any rivalry that had to end at one point because there were guns and swords drawn is one I need to be a part of. That is what most rivalries feel like, just short of actually trying to kill one another. The Clemson Tigers and South Carolina Gamecocks meeting in the Palmetto Bowl is definitely one of the better non-conference rivalries in college sports, so they are definitely worth watching every season.
The only reason I don't have this higher on the list is because it has been a little one-sided with the Tigers winning the last five games, and four of those by at least 18 points. But even then, it is still worth a watch because it is a high-stakes rivalry game to end the regular season.
Another game I almost chose was when the Gamecocks play North Carolina because of the nice title of North Carolina versus South Carolina, but they don't have near the rivalry that they hold with the Tigers.
5. Auburn vs. Oregon
Game Day: August 31
Set as the prime time game of the opening weekend of college football, the Auburn Tigers and Oregon Ducks meet for the second time with high stakes. The last time they played was for the 2011 BCS National Championship.
These are two programs that have had a bunch of success over the last decade and who have also fallen off a little bit in the last few seasons. But this game could be the start to a great 2019 season and will be worth seeing if they do eventually become a title contender down the road.
It is also nice to compare conferences that don't cross over much like the SEC and Pac-12. There are always arguments about which is the best conference, and the best way to decide is with head-to-head games.
4. LSU at Texas
Game Day: September 7
The marquee matchup for Week 2 is between the Texas Longhorns and Louisiana State University Tigers. Texas beat Georgia in the Sugar Bowl last season, so there is no doubt they can play to the level of an SEC team. With both programs always having hopes for championships and each trying to get back to that level, it is always interesting to see who is further along. LSU started the season with a big non-conference win last season, so maybe they can do it again in 2019 against a team from the Big 12.
3. Texas A&M at Clemson
Game Day: September 7
One of the best non-conference games of 2018 was between the Texas A&M Aggies and Clemson Tigers. With Clemson losing a bunch of their best defensive players, it will be interesting to see if these teams are a little more evenly matched. But with Trevor Lawrence returning and will be the full-time starter after just throwing nine passes last season in this game, backing up then-starter Kelly Bryant, it could be a different story.
The defense of the Tigers will have a little less talent, but the offense should be much scarier.
2. Georgia vs. Notre Dame
Game Day: September 21
A game that realistically could be a College Football Playoff semifinal game will be played in the fourth week of the season between the Georgia Bulldogs and Notre Dame Fighting Irish. With Ian Book and Jake Fromm each returning as the starting quarterbacks and Kirby Smart and Brian Kelly leading their teams, this game will be one of the best games of the season, not just among non-conference games.
These are two of the top teams in the country that have each been fighting for a spot in the playoff over the last few seasons. This game will be huge when December rolls around and they are arguing for one of the four spots.
Georgia also plays Georgia Tech to end their regular season each year, so that is a noteworthy game as well, but it doesn't hold the importance that this game will on the national rankings.
1. Florida vs. Miami
Game Day: August 24
The only thing the Notre Dame-Georgia game is missing is a legitimate hate between the programs. The Florida Gators and Miami Hurricanes have been long-time rivals, but have only played three times in the last 15 years. Whichever team wins this neutral-site game has a great start to their season and can possibly go on a run toward their conference championships in Atlanta (SEC) or Charlotte (ACC).
With this game being played on Week 0, the Camping World Kickoff in Orlando will be the first game of the season and one of the best as well. Dan Mullen begins his second season as head coach of Florida, while Manny Diaz begins his tenure as the head coach of the Hurricanes. We are months away and the trash talking on social media has already been crazy, so it will only get better once the game actually gets close and we have an idea of who these teams will be.
The Gators also end their season against Florida State, which is extremely important since it is the last game of the season and can decide so much for a team, but with Florida and Miami rarely playing, this game has an insane buildup throughout the off-season. But they are both nice to see since it is the perfect opportunity to compare the SEC and ACC once again, though we usually do that when Clemson and Alabama play in the College Football Playoff each year.